You are here: Home Page Shop I Can Write My ABC's


I Can Write My ABC's
Poetry Pals Dry Erase Books


$39.95

Includes a carry case with 14 individually shaped dry-erase board books. Each sturdy book contains traceable upper and lower case alphabet letters with corresponding pictures and words, along with a fun poem on the back cover.

Also included is an ABC Activity book. These board books will fit into the Poetry Pals Learning tree (SOLD SEPARATELY). Have fun writing your ABC's!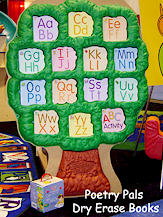 Description & Use
Children will love writing their alphabet on these sturdy wipe-off pages. Each book contains two letters with corresponding words and character pictures to trace.
Excellent for dry erase markers or wipe-off crayons. The poems on the back of each book highlight the focus words in a fun, rhyming format.
*Tree sold separately. Order the tree here.