Program Focus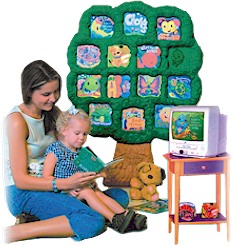 Poetry Pals and its "Lead to Read" concept create an environment that is both fun and inviting to assist the child in learning the wonders of language and reading through its totally interactive learning center. During this read-aloud experience, children develop multi-sensory skills and are motivated through a series of successes and event-oriented reading processes. Poetry Pals has carefully developed this learning center complete with multi-media concepts including interactive read-along video, CD-ROM and DVD to promote and develop vital early literacy skills in children.
Product Description
The Poetry Pals Learning Center (PPLC) has been developed for children from ages 1 - 6. The many different products in the PPLC can be used independently or together as a complete unit. The tree bookshelf organizer is a perfect mini-library and interactive reading center that provides children with a fun and unique reading experience, developing and expanding their vocabulary as well as teaching organizational, responsibility, visual matching and shape identification skills. The nature shaped pop-out puzzle, similar to the tree, provides matching, shape identification as well as dexterity skills. The interactive video, unlike many other videos, is not intended for use as a babysitter; this innovative educational tool was carefully designed and planned to develop and enhance the reading experience for children, as well as motivate and teach them vital reading skills. There are many different methods in which the PPLC can be utilized in either homes, classrooms, daycares, or a library setting. With the range of teaching skills and versatility that the PPLC provides, there are new and useful methods being developed daily.
Program Focus
Assistance in developing a strong foundation for early literacy in children through highly interactive and event oriented reading processes.
Motivation for children to read using a series of successes and accomplishments to build the child's confidence in their ability to learn; i.e. video interaction-first by locating the correct book and following along during the reading process, then, replacing the book back in its proper location.
Identification (children identifying with other children readers) ex: On the read-along video, the majority of the books are read by other children, building awareness that each child has the ability to read.
Inviting participation from children. Adult reader on the interactive video, Angee Hughes, assumes the position of teacher or parent, inviting the children to interact and read along, typical to a classroom setting.
Interactive and repetitious reading exercises--thirty-six minutes of continuous reading in a game-playing environment.
Skill Development
Building and expanding vocabulary
Organizational, responsibility, visual matching and puzzle shape qualities of books and tree slots; ex. replacing books in proper locations
Sharing in a group environment
Verbal expression and intonation
Rhyme and rhythm in poetic verse
Reciting through memorization
Reading comprehension
Reading progression; ex. left to right, top to bottom
Book handling, turning pages, etc.
Leadership; ex. An exercise used in the classroom, 14 different children can be chosen to present each of the different books for the entire class during video.
Program Qualities
Repetitious interaction with many different books and reading through sight, sound, poetic verse and physical play develops a familiar environment and strong foundation for learning. As the emergent reader develops the basic skills in alphabet and phonetic awareness, their newfound knowledge can be more readily applied with this environment and foundation.
Creates excitement and fun using nature and reality as the basis for learning.
Traditional value theme and lesson plan found on the back of each book
Develops a platform for discussion where parents and teachers can share from their own life experiences
Appreciation for nature

order now